ApeosPort Print C5570 - up to 55ppm Colour A3/SRA3/A4 Laser Printer, Network-ready and Duplex standard, 5 inch Touch Screen, Arm A57 dual core Processor, 4GB memory, up to 1200x2400dpi print resolution, 2 x 500 Sheet Feeders plus 90 sheet Multi-purpose Tray, optional Two Tray Module and Tandem Tray module : maximum paper capacity 5,105 sheets, 2x250 sheet output, optional Finisher/Stapler, Booklet Maker, Folder, Hole Punch. Handles up to 300gsm media (simplex) and 300gsm (duplex). 1 year on-site Warranty.

Outstanding graphics printer with exceptional print quality and powerful paper-handling capability.


Features
Power packed feature set with easy operation
The New ApeosPort device is designed to accelerate your business evolution, removing technological barriers to add greater flexibility to your work environment. ApeosPort Print C5570 comes with a powerful pack of high-quality printing, multiple finishing options, and strongest security features.

User Friendly Operation
1. 5-inch colour touch panel:
Intuitive colour touch panel lets you find just what you want at a glance.
2. USB printing*:
Use your own USB memory to print directly from the USB.
3. IC card reader*:
You can use Private Charge Print with your IC card.
4. Upper Center Output Tray
5. Standard Tray
Retracting paper trays minimise effort and reduce noise.
6. Bypass Tray:
Can print on various paper types such as envelopes and postcards.
* Optional.
Media Handling
Paper weight: 52-300 gsm

Paper size: envelopes, postcards, long paper 320 x 1200 mm

*1

Maximum 5105 sheets paper capacity

*2
*1: When using Bypass Tray. Printable area is 305 x 1194 mm.
*2: When installing HCF B1 and Tandem Tray Module.
Easy Trouble Shooting
Help screen:

You can refer to FAQ and user instructions.

Colour animation:

Assists you to solve the operation troubles easily.

Remote Assistance:

Call centre staff remotely operate your touch panel for trouble shooting.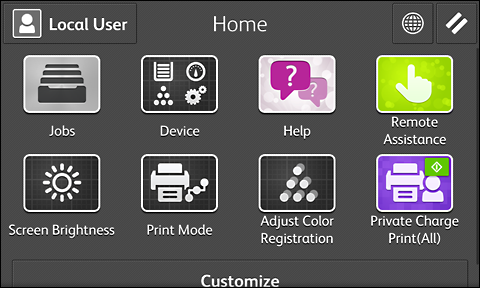 360° data security
ApeosPort Print C5570 is equipped with the strongest security features
Comprehensive security measures protect your important information against threats such as unauthorised access, information leakage, and data tampering.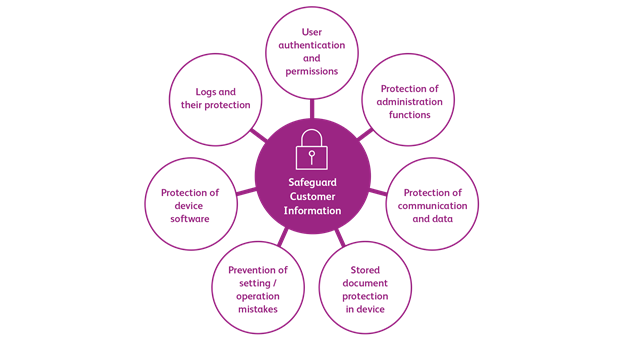 User authentication and permissions
Protection of administration functions
Customer engineer operation restrictions

Account Lock against unauthorised access

Default password warning
Protection of communication and data
Communication route encryption SSL/TLS, IPsec

TLS version limit

Elliptic curve cryptography

Secondary Ethernet

*1
Stored document protection in device
Encrypting Data Stored on SSD

*1

Use TPM

*2

chip for encryption key management

Delete all data on the device
Prevention of setting / operation mistakes
Warnings displayed when using global IP address

Forced annotations

Hidden text printing

*1

Digital code embedding and tracking function

*1
Protection of device software
Signature verification of software

Remote update restrictions

IP address restriction

Detects tampering at startup

Running integrity protection
Logs and their protection
*1: Optional.
*2: Trusted Platform Module
Server-less user authentication
The server-less authentication feature* makes an additional need of authentication server unnecessary. Associating user information registered to devices with the ID information of IC cards makes it possible to share the user information among all devices connected to a parent device, enabling server-less user authentication on the devices.
* Optional.
No need to queue up for printing
Server-less On-Demand Print* allows you to release a print job from a device other than the one specified when the job was submitted if the device is being used by another person, eliminating the need to wait for your turn.
* Optional.
Prevents paper information leakage with Secure Print and Private Charge Print with IC card authentication*.
With Image Log*, job logs and the image itself can be stored and managed, enabling prompt investigation upon information leakage.
* Optional.
Mobility
Perfect for fast-moving mobile workers who need to print out something while on the move. You can easily print from mobile devices using Print Utility*, AirPrint, and Mopria Print Service. When using Print Utility, the printing device is identified just by holing your mobile device over the NFC area on the panel. Easy and simple operation helps busy workers.
* Print Utility is free application provided by Fuji Xerox.

End to end automated workflow
All models equipped with two Standard Trays.

1. With Tandem Tray Module
Paper capacity of up to 3075 sheets
2. With 2 Tray Module and HCF B1 and Side Tray
Paper capacity of up to 4120 sheets
3. With 2 Tray Module and Finisher-B3 and Booklet Maker Unit
- Staple capacity of 50 sheets
- Punch*
- Saddle Staple
- Single Fold
4. With 2 Tray Module and C3 Finisher with Booklet Maker
- Staple capacity of up to 50 / 65 sheets*
- Punch*
- Saddle Staple
- Single Fold
5. With 2 Tray Module and C3 Finisher with Booklet Maker and Folder Unit CD1
- Staple capacity of up to 50 or 65 sheets*
- Punch*
- Saddle Staple
- Single Fold
- Tri-fold
- Z-fold
* Optional.